Thursday, December 20, 2012
To Do List in Case the World Ends Tomorrow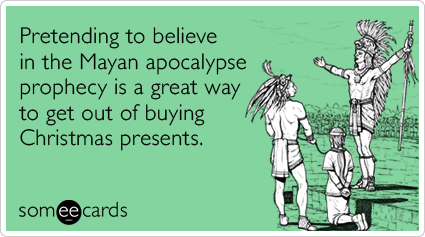 I don't buy into that whole end-of-the-world-because-some-Mayan-dude-got-bored-a-long-time-ago theory, but here's a list of things I should do today. You know, just in case.
Go see The Hobbit. In New Zealand.
Find Nemo at the Great Barrier Reef.
Return the library books I borrowed in 2003. It's a clear conscience thing.
Eat an entire tube of cookie dough as fast as I can. It's an Elf thing.
Tear the tags off my mattress.
Prank call the White House and pretend to be an alien plotting an invasion.
Cash out my bank accounts and go shopping. I'm greeting the apocalypse in style.
Okay, it's going to be a busy day. I better get going.
Hopefully, I'll see you all again tomorrow. But if not, well, it's been real.

You are awesome. And if you share this post, you'll be even awesomer!
Posted by

Karen M. Peterson
at 12:30 AM