Wednesday, January 2, 2013
A Change Will Do You Good
Okay, so remember when I said there were going to be some big changes to Project 52 and y'all were like, "I'm so excited to hear all about it"?
I hope you're still excited because today is the day.
Basically, Project 52 is no more.
Jennee and I are three years into this annual goal-setting adventure and we have finally come to realize that it is really, REALLY hard to follow through on a long list of goals. No matter how excited we are to complete them.
So we did some talking and thought that moving to a monthly goal format would work better for us.
And I did some thinking and thought about another lovely blogger who has been doing the monthly goal type thing for a long while and having great success with it.
So then I thought, what if the three of us were to join forces?
We'd pretty much be unstoppable, that's what.
And that is where we are today.
Now, you can do this however you want to. You can have a certain number of goals every month. You can still make a 52 list and just choose some to cross off each month.
And, of course, there's always my way.
I have a few things I want to accomplish this year. Things like getting myself healthy mentally and physically. Getting myself more financially stable. Traveling and volunteering.
So every month, my list of goals will have something to do with those big themes I want to achieve.
Instead of weekly(ish) check-ins, we'll be linking up on the first Wednesday of each month to share our adventures and successes and failures. And here's how that will work:
1. Follow all three hosts:
Jennee Thompson
2. Write up your post re-capping last month and sharing your new goals for the next month.
3. Include our button on your post.
4. Add your post to the monthly linky.
5. Visit other participants to cheer them on/commiserate/whatever the case may be.
It's going to be awesome.
Join us, won't you?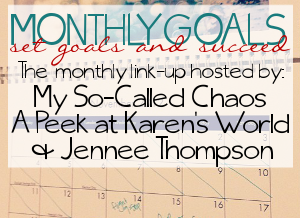 Here are my goals for January:
• Eat at least 5 fruits and veggies every day.
• Update direct deposit to add funds to savings account
• Make a plan to fundraise for a new Habitat for Humanity trip.
• Finish reading the Harry Potter books.
• Watch that Netflix movie and finally send it back.
• Run 1 mile without stopping
Okay, that's what I'll be up to this month. How about you??
And be sure to get over to visit Angie and Jennee. They are awesome and you'll love them if you don't already.

You are awesome. And if you share this post, you'll be even awesomer!
-->