Friday, February 22, 2013
If I Were Going to the Oscars...
I know this will come as a surprise to many of you, but I love the Oscars.
So, so much.
I love the awards and the celebrities and the fashion and the imagining my own acceptance speech for the day when I win for Best Original Screenplay...
Anyway, I love dreaming about being there. Being part of one of my very favorite things. So when Misty announced that she was doing this awesome link up, of course I had to join in.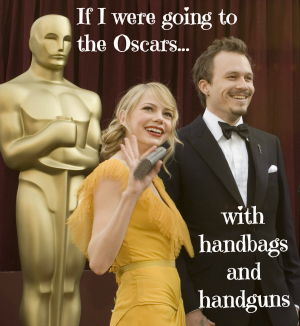 If I were going to the Oscars, I'd want to look fabulous, but still be somewhat comfortable. I'd want a gown that was flattering, but not binding, because who wants to sit there for three hours without the ability to breathe?
I love Vera Wang, and thought for sure I'd be donning something of hers. But no. I found this David Meister gown and fell in love:
I love the color. I love the sparkle. I love the style and the silhouette. I love it.
Because of the high neck line, I would skip a necklace and keep the jewelry simple. I'm thinking diamonds. I'm thinking this:
And some simple earrings to go along with it, though I can't find just the right ones now and it's annoying me.
I'm having similar trouble with my shoes. I know what I want. I just can't find them. But I'm thinking something that won't particularly stand out against the gown. Something sort of like these Jimmy Choos:
Of course, if I'm going to the Oscars, I'm not flying solo. I'm taking me a date. Like the recently re-singled love of my life:
This year's Oscars are going to be amazing.

You are awesome. And if you share this post, you'll be even awesomer!
Posted by

Karen M. Peterson
at 7:13 AM