Friday, July 5, 2013
Flashback Fridays: The 5th of July
It's that time again. Time to relive an old post from the past.
While there's a long and complicated story about why I don't still run that old fireworks stand, they are there for good reason and this post reminded me of why I used to put in all those thankless hours so many years ago.
Number of days from booth set up to final product return: 5
Number of hours worked: 53
Number of volunteers I would have hugged and/or kissed if that wouldn't have been awkward: 14
Number of volunteers I'm grateful for but would NEVER have hugged OR kissed in a million years: 1
Number of times I swore I'd NEVER DO THIS AGAIN: 39,194,588,312
You know those fireworks stands you see when you drive around town?
(Well, if your town is one of the few that hasn't banned safe and sane fireworks yet, anyway.)
Those go to support non-profit groups in your area.
High School band boosters. Cheerleaders. The Boy Scouts of America. Habitat for Humanity. Churches.
All sorts of groups operate fireworks stands to fund raise for their organizations. The deal is that you have to be in a non-profit/community service-type organization. And your group has to be based in the city where your stand is.
Our Job's Daughters have had a fireworks stand since the 70s. No one can remember exactly how long since everyone that was around back then is pretty much dead. It's a great fundraiser because it keeps us out of car washes and bake sales and all the other crap everyone else does and that doesn't pay nearly enough to match the amount of effort involved.
It's a lot of work and it's exhausting, and the last couple of years have really seen the effects of a struggling economy. I wish I felt like it was all worth it when it was over, but I never do. So often, I feel like I'd really rather do the stupid car washes and the pancake breakfasts if it meant not having to give up a week of my free time and my vacation, begging our own parents and helpers to contribute their time since the Lord did not see fit to give me six or eight arms.
But I know it IS worth it.
And, it takes until July 5th for me to decide that.
I just wish I FELT like it really was worth it.
I haven't eaten a real, hot, freshly prepared meal in days. At least not one that required real flatware and plates that have to be washed. I haven't slept for eight straight hours in over a week, what with having just been away at Grand Bethel, too.
I'm tired and I'm hungry and I'm SO spoiling myself today.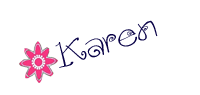 You are awesome. And if you share this post, you'll be even awesomer!
Posted by

Karen M. Peterson
at 9:38 AM