Wednesday, September 4, 2013
I am awesome.
I ROCKED August, y'all. Seriously.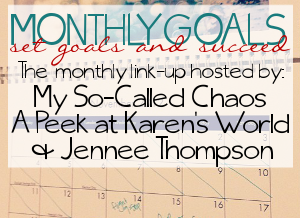 August Goals
☺Finish my manuscript!
DONE!
☺Start editing my manuscript!
DONE!
☺Finish 5 books.
DONE!
☺Apply for three freelance writing opportunities.
(Well, okay, I applied for two, got one that I'll be telling you more about later, and decided I don't have time for much more. And I'm SUPER excited about the new column I'll be writing and can't wait to share!!)
☺Visit the Lake Ward.
DONE!
☺Get bank accounts sorted out.
DONE!
Did you see that?? I did everything I wanted to do in August. I can't remember the last time I had such a productive month! It feels awesome. So let's hope I can keep up the momentum in September.
☺Finish 6 books
☺Write the Primary Sacrament Program
☺Go to every choir rehearsal
☺Attend 2 film screenings
☺Start studying Spanish
☺Go to 1 singles activity.
Want to play along? Come on. You know you do....Here's how:
1. Follow all three hosts:
2. Write up your post re-capping last month and sharing your new goals for the next month.

3. Include our button on your post.

4. Add your post to the monthly linky.

5. Visit other participants to cheer them on/commiserate/whatever the case may be.