Wednesday, February 5, 2014
The year is 1/12th over. How did that happen?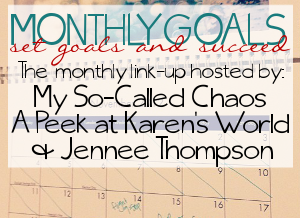 So, let's recap January's goals, shall we?
♦ Start running again. For reals. FAIL
♦ Finish reading Sycamore Row. SUCCESS!
♦
Write and send an email about my volunteer experience. SUCCESS
♦
Organize trip photos. SUCCESS
♦ Go to the doctor and get a referral for that particular issue...FAIL. But only because I decided to break my arm instead...
♦
Start planning trip to Europe with Kelli!! SUCCESS!! Paris, London, Dublin, baby!
♦ Get a hutch built for Bruce Wayne. FAIL But it'll happen in February for SURE.
♦ Get a pedicure!
And let's set some February goals...
♥ Read three books.
♥ Get that hutch built for Bruce Wayne.
♥ Continue the job search.
♥ Finish watching all of the Oscar movies.
♥ Renew my Disney pass and go for my birthday.
♥ Plan a kick-ass Oscar party.
♥ Open a new savings account.
♥ Research IRAs and Roth IRAs.
♥ File my tax return.
Want to join in the fun? Ah, of course you do! It's simple! Follow along with all three hosts, add your goal link, and visit/cheer on some of the other participants. All the cool kids are doing it.