Thursday, March 27, 2014
I Love PicMonkey and So Should You
This is NOT a sponsored post.
It IS, however, a post about something I absolutely love and am in no way getting paid or otherwise compensated to tell you all about.
It's a website called
PicMonkey
. And it's my new favorite.
Because it's all about photo editing. And it's online, so there's no software to install. And it's easy to use. Oh, and also it's free.
Okay, mostly free. You can use a lot of the features without paying a cent and without even having to create an account. Or, you can do what I did and pay a little bit to use all the features any time you want.
(Yes, I for reals paid. I didn't get a free membership in exchange for a post. This isn't sponsored, remember?)
And oh my gosh, it is SO easy to use. Like, I tried to learn Photoshop and it was a big ol' mess. I need to take a class to learn what anything in that program even MEANS. But PicMonkey is so user friendly that there was practically no learning curve. Just a lot of fun experimenting.
For example. I started out with this picture:
It's not a bad picture. The light looks pretty good. It's in focus. The colors are pretty lovely. But it looks a little busy and tough to see the action. So I cropped it.
So much easier to really focus on what's happening here, don't you think?
But I didn't stop there. I decided to crop it a little more to really focus on this home run. And also brighten up the colors a bit.
Big difference, eh?
And then I started playing with some of the different filters and such.
And there are loads more filters to use. Different coloring options and tones and all sorts of things you can do if you just play around with it for awhile.
You can also add text. I did that to this one and created one of those pictures like the motivational posters, just because I could.
I could not, however, think of anything clever to write. Oh well.
You can also add text directly onto the picture to create those awesome images that a lot of bloggers are using for tutorials or whatnot:
You can sharpen here and adjust the contrast there and even add fun things like facial hair and smiley faces and hearts. And you can even out skin tone, add a hint of color to the cheeks and lips, etc. It is a fantastic photo editor. You know, for basic stuff.
You can make collages, too.
And there's a design feature, so you can even design your own buttons. I just threw this one together in about 10 seconds, but you can do some really cool stuff if you take the time.
You can use it to design cards, invitations, announcements, etc.
And the great thing is, if you can't figure out how to use a feature, they have plenty of video tutorials to help you out.
Seriously, it is an awesome program and I'm using it for all my photo editing these days.
Get over there and check it out
!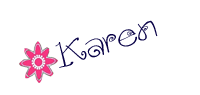 Posted by

Karen M. Peterson
at 4:00 AM